SIE-9099
Outdrive Trailer Clips
Protect your trim and tilt system when trailering. Trailer clips install onto the trim cylinders to help prevent any cylinder movement from rough roads. Fits all Mercruiser outdrives.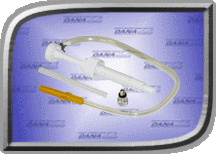 OIL-55005
Lower Unit Oil Pump
Thread in style hand pump for most popular outdrives and outboard engines. Threads onto the top of a quart bottle for easy and clean oil installation.